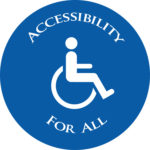 UIUC has one of the best Paralympic training centers in the country,
and one can often see Paralympians training out on the country roads around Champaign-Urbana. Some of those athletes are members at St. Andrew's. Others at St. Andrew's are vulnerable on steps due to age or health.
However, St. Andrew's is not accessible.
Chair users are able to access the ground floor, but our kitchen is in the basement. We eat all our meals upstairs, carrying dishes, silverware, sometimes tables and chairs up and down 2 times a week to meet our needs. When it is time to clean and wash up, we worry for the safety of our vulnerable people as they carry stacks of things up and down the stairs. We want to make clear to the campus and the community that all whom God leads through our doors are welcome and have a place here.
Becoming accessible is a ministry of the Gospel.

Our facility has fallen far behind in its ability to support our mission. It has in fact has become a stumbling block to our ministry. A few years ago, we opened an Accessibility Fund we hoped would allow us to install an elevator or lift so our many active students in wheelchairs would be able to get around our entire building (to date we have raised just over $12,000 toward this goal). After more study and talk with contractors, however, we discovered other serious maintenance problems and design flaws that make retrofitting impossible. For this reason, we are putting on hold further collection of funds for the Accessibility Fund. Our pledge is to put all the Accessibility Funds already raised toward accessibility, regardless what our next steps will be. We are currently in prayerful discernment regarding how our property on this lively corner of the university can best be used for the ministry of the Gospel. We are thrilled to imagine how God might be leading us, and we will make our decisions public every step of the way. Please keep us in prayer as we keep on keeping on!