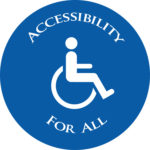 UIUC has one of the best Paralympic training centers in the country,
and one can often see Paralympians training out on the country roads around Champaign-Urbana. Some of those athletes are members at St. Andrew's. Others at St. Andrew's are vulnerable on steps due to age or health.
However, St. Andrew's is not accessible.
Chair users are able to access the ground floor, but our kitchen is in the basement. We eat all our meals upstairs, carrying dishes, silverware, sometimes tables and chairs up and down 2 times a week to meet our needs. When it is time to clean and wash up, we worry for the safety of our beloved older members who contribute so much to this community and who take the stairs to the kitchen with stacks of dishes in their hands.
We want to make clear to the campus and the community that all whom God leads through our doors are welcome and have a place here.
Becoming accessible is a ministry of the Gospel.

To date (May 2017), we have raised nearly $10,000 toward the first and largest phase of making our building accessible, which will include a lift to the basement, bringing our main bathroom up to code, and making our high drinking fountain accessible. We are working with contractors and getting bids for that phase, which we estimate will cost $100,000 or more. We plan to apply for a matching grant through the ELCA (we need to raise as much they will give — up to $100,000) once we have a contractor in place.
The second phase will require upgraded bathrooms in the basement (the current ones are surely from the 60's or 70's and have had no renovations in their history), each of which has a full step into the room at the entrance.
You can help!
We ask you to prayerfully consider a gift toward our Accessibility Fund. You can do that by clicking here and designating "Accessibility" as the Purpose of your gift. Many thanks to God for your generosity.