Student Ministers
Student Minister of Faith in Action Student*
Melanie Rohla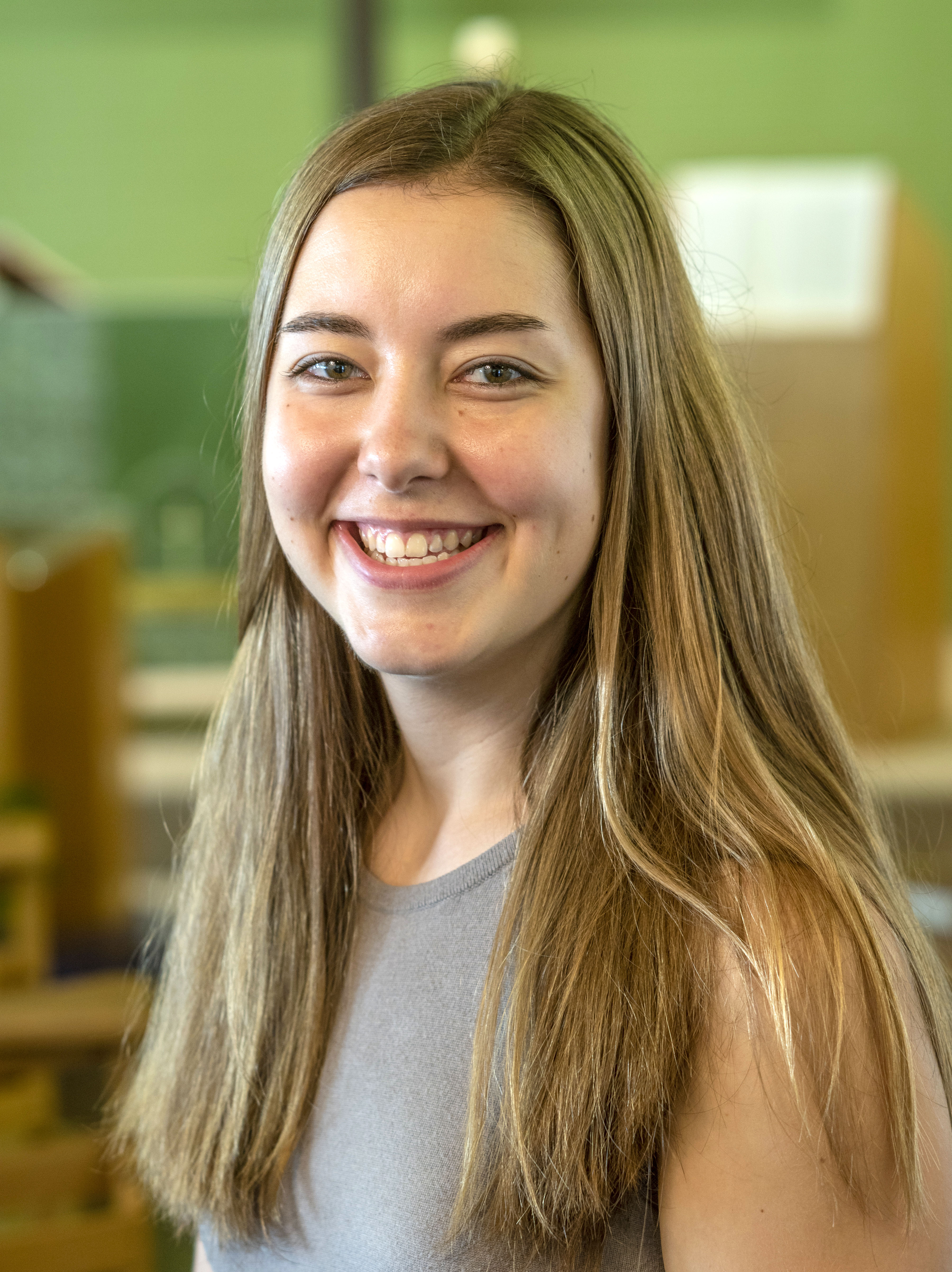 Melanie is a senior at the University of Illinois studying Environmental Science and Global Studies. Born in Texas, she now comes from Lisle, IL, and she has been attending Saint Andrew's for two years. Growing up, her home churches had strong focuses on service and justice, leading her to take on the role of Faith in Action Student Minister at Saint Andrew's. Melanie also serves as our Council President.
faithinactionsm@gmail.com
Student Minister of Communications*
Molly Banwart

Molly is a senior in Linguistics from Algonquin, IL. "While I've been involved with St. Andrew's less than a year, I have quickly grown to love the community in such a short amount of time. As the Communications Student Minister, I hope to be a welcoming face and a helpful hand to those new and old to St A's as well as those searching for a spiritual home."
communicationssm.salc@gmail.com
Music Minister
Simon Tiffin
Simon is a senior from Ottawa, Illinois, pursuing a Bachelor of Arts in Music with a focus on Vocal Coaching and Accompanying, currently working as a freelance accompanist/pianist in the CU area. "I'm super excited be joining the St. Andrew's community! The emphasis placed on various types of music during service and the amazing sense of community I sensed during communion circles has really drawn me into the rich, diverse culture of this congregation. For fun, I love performing around campus with The Other Guys, playing video games with my roommates, and dog-spotting on the Quad. tiffin2@illinois.edu
*Student Ministers also serve on the council.
Pastor and Director
Pastor Amy C. Thoren
Pastor Amy holds a B.A. from St. Olaf College and an MDiv from the Lutheran School of Theology at Chicago. She studied and lived in Germany before being ordained in 2004, and she served 2 congregations in the other twin cities (Mpls/St Paul) before landing in Central IL. She loves biking, music, arts, language, composting with worms, and all things sustainably green. She often has more questions than answers, and she believes young adults and students are wonderfully honest about the intersection of their lives, their studies, the institutional church, and both faith and doubt. She believes the church is about a community of love formed by God's radical grace known in Christ, and she's eager to meet you for coffee or lunch. pastor.amy.salc@gmail.com
Office Administrator
Rachel Rasmussen
Rachel has been the office administrator at St. Andrew's since November 2015. She has taught intergroup dialogue courses through the UI Dean's Office for Inclusion and Intercultural Relations and is the volunteer coordinator for UC Books to Prisoners. She has lived in Champaign for 20 years with her husband and raised two children. lutherancampuscenter@gmail.com
Church Council
Council President
Brendan O'Shaughnessy

Brendan is a junior at the University of Illinois studying Sculpture and Environmental Science. "As this year's Council President, I am interested in providing an affirming place for the LGBTQ community. And I'm also extremely driven to promote sustainability and the intersection between faith and ecology."
Church Council member
Ray McDermott

Ray, a native of Brooklyn, New York and a retired corrections administrator, has lived in CU for 16 years. "I have been a member of the Saint Andrews community for almost 3 years and have enjoyed every moment of it. I appreciate the spiritual direction of Pastor Amy and the support of the community on my journey. I contribute to the council by initiating and teaching free English as a Second Language classes on Tuesdays,10-11:30 AM and 2-3:30 PM.
Council member
Joel Muller
.
Joel is a psychologist (clinical counselor) at the University of Illinois Urbana-Champaign Counseling Center, with a Ph.D. from the University of Tennessee, Knoxville. He is a dual citizen of Australia and the U.S. and have been heavily involved in campus ministry for the last 12 years in various places throughout the U.S. (Jacob's Porch in Columbus, Ohio, organizations at Valparaiso University in Indiana, Tyson House in Knoxville, Tennessee, and now here at St. Andrews for the last 2 years). "I have a large passion for campus ministry and my favorite thing about St. Andrews is that it is a welcoming and supportive community with a passion for social justice issues including racial justice, refugee/immigrant concerns and environmental sustainability. As a member of church council, I help specifically with social justice related projects and community building activities."
Council member
Maddi Vogel

Maddi is a junior from Fox River Grove, Illinois studying jazz drums with a minor in business. "I've been involved with St. Andrews for three years, and on council I help most with fellowship and music. My favorite thing about St. Andrews is the continually welcoming and supportive community here!
Council member
Daniel Zhu

Daniel is a Ph.D. candidate/visiting student from China studying Nuclear Engineering (about how to safely transfer nuclear power to electricity). "I've been involved with St. Andrews for one year in this very lovely and inspiring community! On council, I help most with the gardening and facility care, like tending the indoor plants! My favorite thing about St. Andrew's is our Pastor Amy! Shout out to my Pastor! She gives endless love, peace, and words of wisdom to every young adult in this community."
*Student Ministers also serve on the council.
Board President
Rev Janet Lepp
Janet Lepp is an ELCA Pastor who has retired from full-time ministry and has moved with her husband, Dan, to Champaign. Janet enjoys playing the piano, exploring new places with friends, hanging out with her adult children, playing with her 2 year old grandson, and reading mysteries and theology books. "I am pleased to be able to participate in the U of I Lutheran Campus Center activities where I have met some amazingly faithful and exceptionally resourceful emerging adults. Because of their passion for serving others in creative new ways, I'm excited to see how the vibrant ministry of this place will unfold as we enter the future."