Church Council President, Sofia Garfias-Yi
Sofia is a senior this year at U of I, double majoring in Sociology and Communication. Some of her hobbies include playing the viola, drawing, and scouting out the best places to eat around campus. She been involved at St. Andrew's since her freshman year and says she is excited to see what's in store!
sofiagarfiasyi@gmail.com
Pastor and Director, Amy C. Thoren
Pastor Amy C. Thoren holds a B.A. from St. Olaf College and an MDiv from the Lutheran School of Theology at Chicago. She studied and lived in Germany before being ordained in 2004, and she served 2 congregations in the other twin cities (Mpls/St Paul) before landing in Central IL. She loves biking, music, arts, language, composting with worms, and all things sustainably green. She often has more questions than answers, and she believes young adults and students are wonderfully honest about the intersection of their lives, their studies, the institutional church, and both faith and doubt. She believes the church is about a community of love formed by God's radical grace known in Christ, and she's eager to meet you for coffee or lunch.
pastor.amy.salc@gmail.com
Martha Awles, Director of Music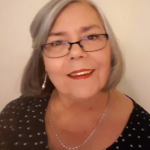 Martha has been the Director of Music, Organist, Choir Director, of St. Andrew's for 13 years. She has also served on the Board in years past. She studied Sacred Music at Maryville College in Tennessee and Union Theological Seminary in New York City. She has also served as Director of Music in other campus ministries (College of Wooster and University of Rochester/Eastman School of Music, where she was University Organist) and many churches of varying denominations (Presbyterian, Anglican, Baptist, Episcopal)
Office Administrator, Rachel Rasmussen
Rachel has been the office administrator at St. Andrew's since November 2015. In addition to organizational skills, she brings a passion for the ministry of reconciliation. She was tutor coordinator for five years for the UI Education Justice Project in Danville Correctional Center. Currently she also co-teaches intergroup dialogue courses through the UI Dean's Office for Inclusion and Intercultural Relations. She has a Th.D. from Harvard Divinity School in Modern Christian Theology, has lived in Champaign for 20 years with her husband and raised two children.
Board of Trustees President, Roger Digges
Roger is a retired ELCA pastor who last served for 22 years at Grace, Champaign, just two miles west of St. Andrew's. He has been married to Cathy for 40 years, is the father of two adult children who live in Chicago and Seattle, and a doting grandfather of two (in Seattle, alas). He has been a member of the Board since 2011 and president since 2015.